Pleated blinds
A wide range of serial pleated blinds from ECONOM to PREMIUM class wholesale from the manufacturer.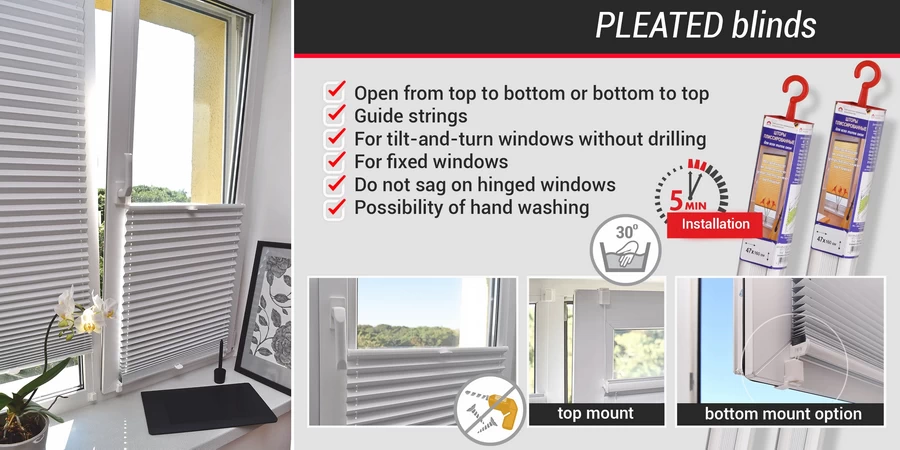 PLEATED blinds WHOLESALE from the manufacturer
Pleated blinds are the pinnacle of modern sun protection systems design. Pleated blinds are special pleated fabric. Pleated blinds combine functionality and sophisticated design. Bliss pleated blinds from DELFA are a great alternative to expensive pleated blinds, representing an economical option only for standard rectangular windows. Advantages of Bliss pleated blinds:
Functionality and quality of Bliss pleated blinds:
- a design feature allows you to open the window as much as possible (unlike other types of sun protection);
- reliability of raising and lowering mechanisms;
- high-quality pleated fabrics from leading world manufacturers (Germany, the Netherlands, Belgium).
Wide range of fabrics by design, texture, light transmission:
- light scattering, translucent, 100% light blocking (Blackout);
- plain, patterned, with a print;
Quality of fabrics:
- crease resistance, tensile strength and fabric density;
- color fastness and eco-friendly dyes (without formaldehydes and solvents);
- anti-static coating of the fabric against dust;
- antibacterial fabric impregnation.
Practicality of pleated blinds:
- easy installation on a window sashes;
- easy care due to the design features and fabric properties. The blind is easy to remove and is a subject to conditionally wet cleaning.
Sizes scale for pleated blinds
| | |
| --- | --- |
| Width, cm | Length cm |
| 34; 43; 52; 57; 62; 68; 73; 81 cm | 160 cm |
| 68 cm (for doors) | 215 cm (for doors) |