Standard horizontal blinds
Serial ECONOMY class Standard horizontal blinds wholesale from the manufacturer.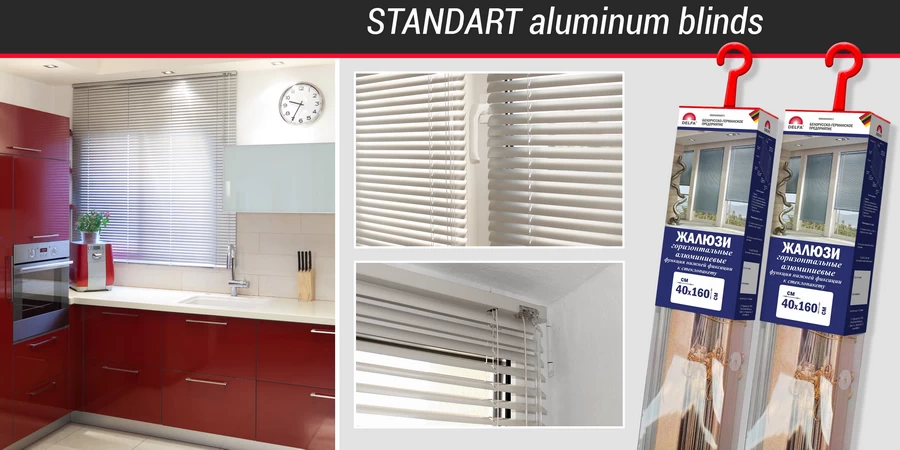 Standard horizontal BLINDS WHOLESALE from the manufacturer
Horizontal aluminum blinds are the oldest and the most common sun protection system, which is time-tested and worked out to the smallest detail. The high reliability and functionality of Delfa horizontal blinds is associated with a number of advantages:
High quality is achieved thanks to:
- reliable mechanisms for raising and lowering of slats;
- high-quality load-bearing profiles from the German manufacturer;
- more durable aluminum slats produced in the EU which are 25mm wide and 0.18mm thick.
Ecological safety is confirmed by hygienic certificates. Blinds do not emit harmful substances into the air when heated by sunlight due to the quality and eco-friendly aluminum slats and curtain poles. Therefore, they can be used without restrictions in:
- apartments, houses;
- medical institutions, sanatoriums;
- schools and preschool institutions.
Practicality and durability of Delfa aluminum blinds:
- easy installation on window sashes or in a window opening;
- bottom mount option;
- it is enough to wipe the blinds with a wet cloth to clean dusty blinds.
Sizes scale for Standard horizontal blinds
| | |
| --- | --- |
| Width | Length |
| 40; 50; 60; 70; 80; 90; 100; 110; 120; 130; 140; 150; 160 cm | 160 cm |
| 60; 70; 80; 90 cm | 220 cm |