Mini Roman blinds
A wide range of serial Mini Roman blinds from ECONOM to PREMIUM class wholesale from the manufacturer.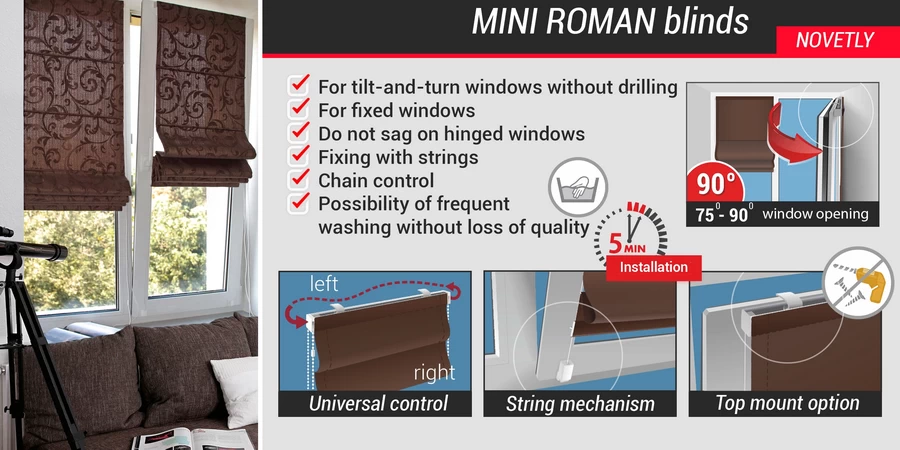 Mini ROMAN blinds WHOLESALE from the manufacturer
Mini Roman blinds are an absolute novelty of 2014. We were the first who mastered mass production of these blinds. Currently, there are no analogues on the market. Roman blinds are now widely used in modern interiors due to harmonious combination of aesthetic and functional properties. They are worthy companions to decorative curtains.
High quality of Mini Roman blinds is achieved thanks to:
- Spanish fabrics, such as Turia, Miami, Zarate, Bremen, and Plain colour tulle fabrics;
- an advanced curtain pole with a chain mechanism made of white aluminum profile;
- use of a universal bracket for mounting to a wall, ceiling or on the window profile;
- cord winding drums are inside the profile with the use of endless chain;
- 5 fibroplast sticks are inserted in the curtain canvas, which ensure crisp horizontal pleats for the blinds.
Wide range of fabrics by design, texture, light transmission:
- uniformly dyed and colored fabrics;
- light-scattering, translucent fabrics.
European fabrics have the high quality characteristics:
- colour fastness and eco-friendly dyes (without formaldehydes);
- crease resistance, tensile strength and fabric density;
- special anti-shrink treatment;
- anti-static coating of the fabric against dust;
- antibacterial fabric impregnation.
High practicality of the Mini Roman blinds:
- fastened directly to the double-glazed window, with the possibility of mounting without drilling;
- universal chain mechanism with right and left control ensures smooth raising/lowering of the blinds;
- the string mechanism ensures a reliable fit of the blind to the window in the window ventilation mode;
- Mini Roman blinds' canvas can be easily removed, washed and ironed.
Sizes scale for Mini roman blinds
| | |
| --- | --- |
| Width of fabric | Length of fabric |
| 43; 52; 57; 62; 68; 73; 81 cm | 160 cm |